We empower people in business organizations to perform at their best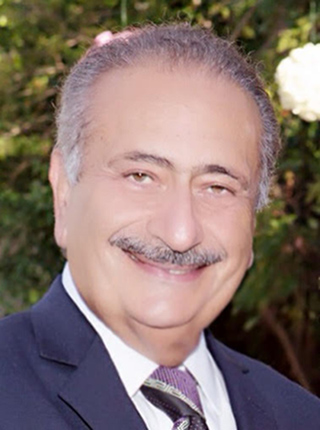 Hi
this is Shawn Halimi,  Founder & Principal of Shawn Halimi Consulting. I first came to the United States in 1980 with a BS degree in engineering from the U.K. and opened a 1,500 square foot retail store in Los Angeles with no business experience and very little cash. By 1995, my business had grown into a regional chain of stores doing over one hundred million dollars per year in sales with about 250 employees.
Due to the observation of the rapid expansion and success of my company, friends and customers who were business owners approached me with questions about problems they encountered in their business by asking how I handled similar problems in my own business. This provided me with a platform to discover my life's mission, which I define as "helping business people succeed by improving their leadership and management skills to the maximum of their natural potential." By 1997, I officially started my practice as a business management consultant and coach.
Since that time, (except for one year when I joined an international consulting firm to gain experience in working with fortune 500 companies), I have developed a specialized niche in consulting and coaching owners of small to medium-sized businesses in Los Angeles. I work with a large variety of industries to improve their performance and bottom line by organizing their businesses into professionally managed corporations. Together with my associates, we combine your specific experience of your industry with our unique management and leadership techniques to increase your efficiency and that of your staff, leading to increased sales and bottom line profitability.
What our clients are saying
"I first met Shawn Halimi based on the recommendation of a business associate, in an informational and  complimentary consulting session at the end of which I was so impressed that I decided on hiring him to help us with growing pains that our business was experiencing. By now, we consider Shawn to be an essential factor affecting the organization and growth of our business.  In the four months we have been working together, we have seen and made many improvements in the entire operations, structure, and bottom line of our business.  Shawn is an amazing and practical business resource who has brought a lot of valuable leadership and business management know how to myself and to my team. His approach and expertise brings an amazing clarity to the issues at hand which result in ease of decision making, thus allowing us to move forward with those decisions with confidence.  He operates not only as business consultant and coach, but more like a partner that has a vested interest in the success of your company. I consider Mr. Halimi to be instrumental in the recent growth and progress of our business and would not hesitate to recommend him to any friends who own businesses."
"5 STARS all the way!!! Honestly — I praise the day that we made the call and contacted Shawn. Best decision I could have ever made. If it wasn't for Shawn walking into our life we would still have no idea (exactly) how much the business grosses, and  where the $$$ goes on a day-to-day spending basis and I still would have no clue about the checklist of things that are required when running your own business.

Even if you've been in business for a while and feel you're ahead of the game — having someone that you can TRUST to outsource your private info and numbers to that will calculate your madness into readable and understandable terms is priceless.

Shawn has brought so much positive change and has made everything much clearer and best of all is the peace of mind that he has brought into our lives which to me is priceless. I am not in the dark anymore when faced with adversity and things no longer are problems they are just challenges that are overcome with Shawn's guidance.

He is always easily accessible without hesitation and  to the point when needing to get things done, and always on top of what's next on the to-do-list of things.  He has helped us feel more confident about owning our own business and we appreciate and respect the financial advise he has given us thus far. He treats the business as if it was his own full of fervor and passion for what he does.

I've been working with Shawn for about a year now and I brag about him and recommend him to those I know and even to those I don't know…very well. Anyone in any field of business from small businesses to larger corporations can benefit from Shawn's wisdom. Trust me, We  tried to do it on our own' for long enough and there were so many things that seemed like boulders in our path but with Shawn on our team all of that has disappeared and what seemed like boulders have now become pebbles that you simply kick to the side!

Weight off my shoulders… is as simple as you can describe it ….which now with Shawn around I have more time to focus on the things that I'm actually good at in my business, and as a result my sales have increased. My outlook is more positive now and nothing will bring us down with Shawn at our side. Thank you Shawn!"
"Shawn Halimi can best be described as a business owner's best, most reliable and knowledgable friend. I started working with Shawn in 2007 based on a recommendation from my CPA. During this time his work has brought a lot of management expertise to my company that were all unknown to me during the 25 years that I was in business before I met him. I can clearly track improvements in my company's bottom line to his association with our company. I have been truly realizing the best ROI from Shawn Halimi Consulting."
"We started working with Shawn Halimi Consulting in 2006 based on the recommendation of our CPA because we needed to improve our organization.  At that time our sales were $8 million per year after being in business for 22 years. With Shawn's help, in 2012 our sales surpassed $20 million and during 2013 our sales are running at 49% over the same period last year. I can say with confidence that Shawn Halimi has been instrumental in helping us reach this level of performance in many ways. We have weekly meetings at our headquarters and he is always available by phone and email to resolve any issues that need solutions.

To my opinion, Shawn is a necessity for any business owner of small to medium sized business, who is committed to leading his/her organization to new levels of performance. Shawn operates like a competent partner with passion, integrity and dedication, employing a powerful method that builds up an organization that bring out the best in employees. I have recommended Shawn to many business owners in Los Angeles."
"I am a CPA and accounting consultant. I've been working with Shawn for over five years at quite a few client companies. What he does is take the ambiguity and guessing out of a business with uncanny clarity and turn it into transparency, using his proven specialized metrics, compensation packages and regular follow up which creates employee accountability. Shawn helps business owners and their staff set and reach goals which ultimately result in better revenues and bottom line for the business while rewarding employees by aligning business owners' and employees' interests along the same axis."
"If as a business owner you find yourself lost in your own business, it is probably time to call Shawn Halimi. I first met Shawn about 14 months ago, and to be quite honest was a bit reluctant to receive him but this all quickly changed. After the first couple of sessions (almost psychological) we quickly realized this guy knows what he is doing!!!

In the following months, Shawn has helped develop a blueprint for success. He has motivated and developed not so much the decisions that are made, but the decision makers and their way of making the decisions. I can truly recommend Shawn Halimi as a Business Consultant to the consensus and strongly urge you to give him a shot at establishing clarity in your business."
"My name is Hamid Nehoray and as CIO of multiple fortune 500 companies, I have wide experience working with many consultants in various levels.

Since I became a professional IT/business consultant, I had the privilege working with Shawn in three different companies.  Shawn has helped, in each case, enhancing the bottom line while reducing the operation cost rendering enhanced business strategy, improving standard operation & procedures, suggesting new ideas to the business principals, hiring professional employees, improving systems automation and trained managers on latest management methods and project management skills.

I highly recommend Mr. Shawn Halimi, if you are in need of company standards & procedures improvement or concern for declining profit."